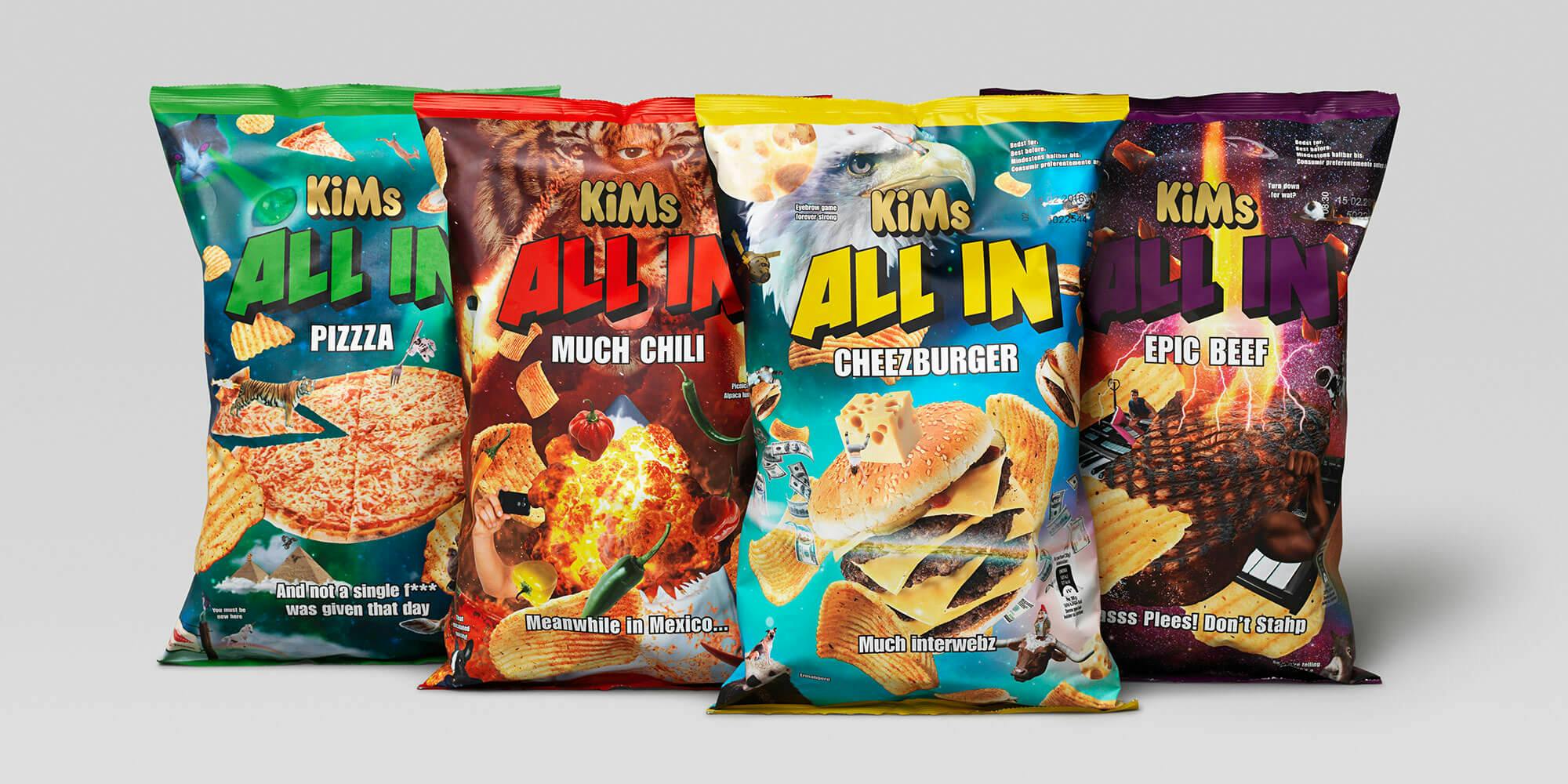 KiMs
KiMs is the undisputed leader on the Danish snacking market and part of Orkla Confectionery and Snacks. In 2015 KiMs was losing traction with the young, snack-loving demographic, so together we decided to launch a new range of chips with more seasoning and more outrageous flavors, appealing to a younger audience.
THE CHALLENGE
How do you design a new range of chips for young people in a trustworthy way?
We started the process with qualitative and ethnographic research to better understand their cultural references and language. Based on this research we identified an area of interest that KiMs, as a snack brand, could seamlessly be woven into. A universe which would be a good fit for KiMs tone of voice and fun-loving personality, and somewhere product would still play a vital role as the driver of the story.
THE IDEA
We went ALL IN and designed packaging which looks like the kind of content the teen target shares online. The user-generated look makes it feel approachable, and each design is filled with Easter eggs for the customer to discover as they interact with the product.
A secret club or language – only for the initiated few, who understand. We tested three design directions in workshops with the target audience, chose the one that generated instant interest and engagement and finalized the design based on their input.
Go ALL IN or don't go at all
THE RESULTS
With All In, KiMs has launched a very popular product range that reached 97,7% of its annual sales target only six weeks after launch, thereby outperforming previous product launches aimed at this target group by 600%. But more importantly, KiMs now has a specific concept that engages and entertains young consumers and adds value to their usage occasions, a conceptual platform for social engagement, and a brand universe which inspires participation and is designed to evolve and grow with the audience and their interests.